Weather Forecast Shanghai China
Weather Forecast Tiawan
SURF WEBCAMS
| | |
| --- | --- |
| CLICK -NO WEBCAM E-mail URL to david@tuskasurf.co.uk | |
SURF FORECAST
Data Provided by snowjapan.com
Satellite Image of China, Tiawan' Japan updates Dailey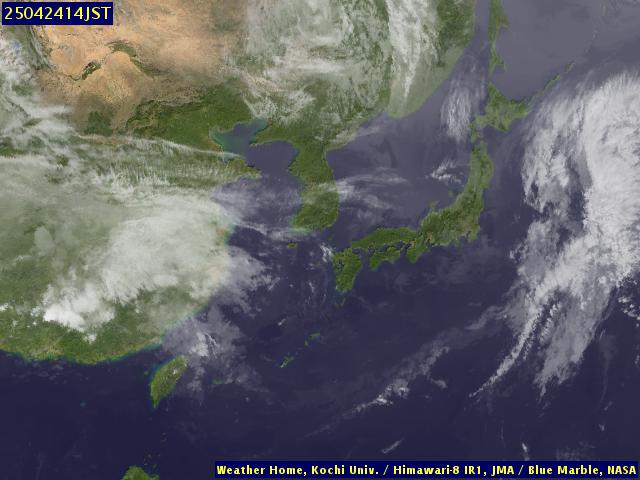 SURFING FORECASTS
All the best Surf Forecasts for your surf all in One Place
South Sea China Pressure Charts
HOW TO PREDICT A SWELL FROM WEATHER CHARTS
Look for a storm and verify it will be in your swell window.
Regularly review atmospheric models that depict both surface
pressure and winds (like the AVN or MRF). Look for periods
when winds are forecast to blow in excess of 25 kts towards
your beach for longer than 24 hours. Then verify that the winds
are forecast to be positioned within your swell window .
The best situation is to have high winds, covering a large fetch
area, blowing at you for a long time. But only experience will
determine what the requirements are for your beach.
A 'swell window' is the part of your ocean that provides a swell
unobstructed, straight-line access to your beach (even 1000 miles
or more away). Get a globe. Locate your beach. Identify islands,
shoals, land, or anything that could obstruct a swell from proceeding
straight into your beach. Using a string and a pin, tie the string to the
pin, and stick the pin into the globe on your beach. Using the string
as a guide, pull it tight and out into the ocean away from your beach.
Move the string in different directions along the surface of the globe.
Wherever the string first touches the edge of land (or anything that
would obstruct a swell), trace the line of the string onto the globe
using a pen. If you have access to "Great Circle" charts, use them
instead. All beaches will have at least 2 boundaries to their swell
window, and if islands are present, perhaps many more.

Tropical Cyclone Warnings
A good solid take off round at suck up will almost guarantee you of a ride worth remembering. Generaly An excellent break in bigger swells, when it's 2ft & under, don't really go, unless its really clean, and sucky or you are a beginer. otherwise, Best when there are 4-5ft ground swells barreling and sucking up to combine and make the perfect ride.
Surf Clothing Surf Forecast Surf Photos Surf Webcams weather forecasts for Byron Bay Australia
All the best Surf forecasts and surf webcam all in one place.